If you are like me one of the biggest annoyances with the new interface is the match stats on the left-hand side. It's just too limited in the data it provides which often means you have to waste one of the tablet panels with the full stats. And worst of all it leaves so much wasted space in the notable events section.
Well, now you don't have to make these compromises with my custom panel that ads most (if not all) the stats you may want.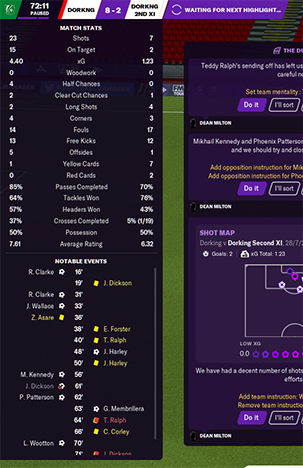 How to Install
** YOU WILL NEED TO BE USING A CUSTOM SKIN
OR
YOU WILL NEED TO DOWNLOAD STANDALONE VERSIONS OF THE BASE SKINS FROM THE
SI FORUMS
**
Download the attached .zip file and Extract it with a tool such as 7-Zip
Copy the Extracted File
Locate your FM21 data folder (Usually in \Documents\Sports Interactive\Football Manager 2021\ )
Now enter your Skin folder, you should see a list of the Skins you have installed
Identify the Skin you want to apply this to then enter the folder
Now go to the Panels folder and the match folder
Paste the XML file.
Now Start the game and goto preferences.
Under Interface untick Use Caching and make sure Reload Skin when confirming preference changes is selects.
Click confirm and the changes should be active
Enjoy!